Look Local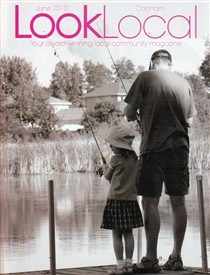 Blossom & Jasmine bringing beauty to you
During my Look Local travels over the past five years, I have met some pretty amazing individuals, and a few really stand out. Cobham-based, Lithuanian-born Gintare Lisauskiene is certainly one of them! She is the founder of a truly bespoke beauty service called "Blossom and Jasmine" and her drive and enthusiasm really impressed me.
Gintare is a highly qualified beautician, and having worked for some top London salons, she has gained invaluable experience and knows how to deliver excellent service. She noticed a gap in the UK market for a high-quality, national beauty service. She now heads up a team of beauticians who cover the UK, vetting each and every one of them personally before they can fly the Blossom and Jasmine banner!
So wherever you are in the country, you just call the 0845 number and place your order. If you are travelling or renting a holiday home, or working from home and fancy a facial during your lunch break, or a pedicure while you work, it can be arranged! Blossom and Jasmine have a growing list of celebrity clients, who, for obvious reasons, prefer to be treated in the privacy of their own homes! And when Top Shop launched their new range of cosmetics last month it was Gintare they called upon to supply a team of beauticians to assist the launch in the Oxford Street store.
Her company has also been recommended in many big publications, Hello Magazine, Red, In Style, Bride, Weddings and The Evening Standard to name but a few (of course, Look Local can now be added to the top of that prestigious list!).
I was delighted to accept when Gintare asked me if I would like to try out her service. She asked me to select a treatment of my choice, time and place! I looked in my diary. 'How about a facial at 11am next Friday?' and within a flash she was on her Blackberry and my appointment was booked!
True to form, at 11am the following Friday, Carly, one of Gintare's team arrived at my front door. She was friendly and professional and came complete with a portable but sturdy treatment couch and a large bag of lotions and potions! She set up her mobile salon quickly in my lounge. I lit my lavender oil burner and we discussed my skin type and what type of facial I required. Carly used an American range of natural products called Diva Deva. The treatment I received included lots of wonderful facial, neck and shoulder massage, as well as deep cleansing and gentle exfoliation. A bespoke combination of essential oils were used for the massage while a mask was on my face, then toning and moisture followed and finally some light eye cream was applied. It was a truly wonderful treatment and very relaxing indeed.
Of course, you don't have to be a celebrity to book a treat from Blossom and Jasmine; their prices are affordable and the service I received was excellent. Thanks go to Gintare, and to Carly for your expertise.
Blossom and Jasmine is a great find and the latest number to be added to my mobile phone!
Blossom and Jasmine specialise in manicures, pedicures, facials, a selection of massages for individuals or couples (including pregnancy massage and baby massage courses), waxing, hair and make-up, spray tans, eye treatments and hair-dressing. Other services also include personal fitness training, including yoga, without the inconvenience of going to a spa or gym.